LCK5041XJH5 Negative Pressure Ambulance
LCK5041XJH5 negative pressure ambulance is an emergency medical vehicle modified by Zhongtong based on middle axle high roof light-duty passenger car. It features an exterior height of 5.9m and an interior height of 1.9m, ensuring spacious interior space. This ambulance is equipped with RA428Q150E50 diesel engine and 6-speed manual transmission, with speed up to 130km/h. After modification, the ambulance comes with alarm system, electrical system, negative pressure system, ambulance system, etc., which can be widely used for pre-hospital rescue, patient transfer and infectious patient monitoring.
Parameters and Configurations
Basic Information
Modified Car Model
Middle Axle High Roof Diesel National V Light-duty Passenger Car
Ambulance Color
White / Red, or customization
Technical Parameters
Product model
LCK5041XJH5
Maximum Total Mass
3930kg
Number of Crew
3-8 People
Wheelbase
3665mm
Body size
Length x width x height(mm): 5915 * 2040 * 2632
Medical Cabin Size
Length x width x height(mm): 3200 * 1740 * 1900
Front and Rear Track Width
1710 / 1715(mm)
Approach / Departure Angle
19/17°
Maximum Speed
130
Engine Model
WEICHAI RA428Q150E50 diesel engine
Engine
2.8T
Emission Standard
National Ⅴ emission standard
Rated Power
110kW
Fuel Tank Capacity
80L
Drive Method
Front-engine, rear-wheel-drive
Gearbox
6- Speed manual transmission
Suspension
Front transverse leaf spring front suspension / rear variable cross-section leaf spring
Steering
Steering wheel, hydraulic power steering
Braking Type
Front and rear disc brakes, ESC
Tire Specification
215/75R 16LT*4
Warning Signs and Lights on Ambulance Body
Appearance
White body with color bars and ambulance logo, side window glass with solar film
Warning Lights
LED strobe warning lights as the headlight, 100W alarm system, blue strobe lights / floodlights on the left/right side and tail
Ambulance Facilities
Ambulance System
Isolation stretcher for negative pressure isolation transfer cabin; Aluminum alloy stretcher platform: auxiliary stretcher guide fixed on the ambulance, protective floor; Infusion Stand: Rail-mounted infusion stand
Centralized Medical Oxygen Control System
Equipped with a 2*10L oxygen cylinder, an oxygen pressure gauge displays the pressure value in real time; valve switching can be easily made between two oxygen cylinders. Two oxygen terminals: an oxygen inhaler and a ventilator connector.
Medical Electrical System
Inverter System
1kw Sine wave inverter charger
External Power Supply
External 16A waterproof power charging socket; 20m external charging cable; four sets of 220v / 12v sockets
Electrical Control
Electrical integrated control panel assembly, integrated electrical control and inverter parameter display
Lighting System
LED lights for overall lighting; LED spotlight above the stretcher for accent lighting, providing sufficient brightness for infusion or surgery;
Air Circulation System
Negative Pressure System
The ceiling of the medical cabin is equipped with a negative pressure system to form a negative pressure air flow to ensure that the patient's exhaled air does not circulate in the medical cabin.
Air Conditioning
Independently controlled rear air conditioner and rear heater
Disinfection System
Ozone Disinfection System
Equipped with an ozone system to completely disinfect the medical cabin
Disinfection
UV disinfection lamp
Cabinets and Partition Wall in the Medical Cabin
Middle Partition Wall Assembly
Separation and sealing between the driver cab and the medical cabin through the partition wall
Cabinet Assembly
The left side of the medical cabin features is designed with an overall cabinet, the cabinet body is made of PVC material, without sharp edges and corners. The oxygen cylinder cabinet is located at the rear of the medical cabin, which is convenient for replacing oxygen cylinders. A medical equipment platform is placed in the left cabinet. The upper part of the left cabinet is a medical supplies hanging cabinet. Visual cabinet doors are designed, which is convenient for quickly identifying the objects in the cabinet.
The negative pressure device is equipped on the head section of the medical stretcher, ensuring high efficient filtration and disinfection of the polluted cabin air.
Interior Decoration in the Medical Cabin
The ceiling and the right side of the medical cabin features an integrally molded interior decoration, with rounded corners on the joints. The decoration is corrosion resistant and mildew-proof, ensuring easy clean and hygiene. The flooring in the medical cabin: blue light-weight floor adopted is waterproof, corrosion resistant, wear-resistant, and anti-bacterial, which is extremely easy to clean.
Medical Equipment
Walkie Talkie
Hands-Free intercom system is installed in the medical cabin and operator cab, available with two-way control.
Surveillance System
Medical cabin monitoring and vehicle front and rear monitoring
Auxiliary Facilities
Reversing Radar
Reversing radar monitoring alarm
Fire Extinguisher
2*2kg Dry powder fire extinguisher
Step Board on The Side Door
Electric step
Features
1. Excellent Exterior Design, Spacious Interior for Optimum Comfort
The negative pressure ambulance features a simple and modern design in appearance. The car lights are perfectly integrated in the car body. The ambulance comes with an interior in 1.9m height, making you stand freely without trouble.

2. Strong Power System
The ambulance is equipped with powerful 2.8T WEICHAI RA428Q150E50 diesel engine and 6-speed manual transmission, with speed up to 130km/h.
3. Comfortable Driving Experience
Easy operation and control is realized due to the halogen headlights, ergonomically designed driver cab, 8-way adjustable seat, 4 spoke steering wheel and intelligent LCD instrument.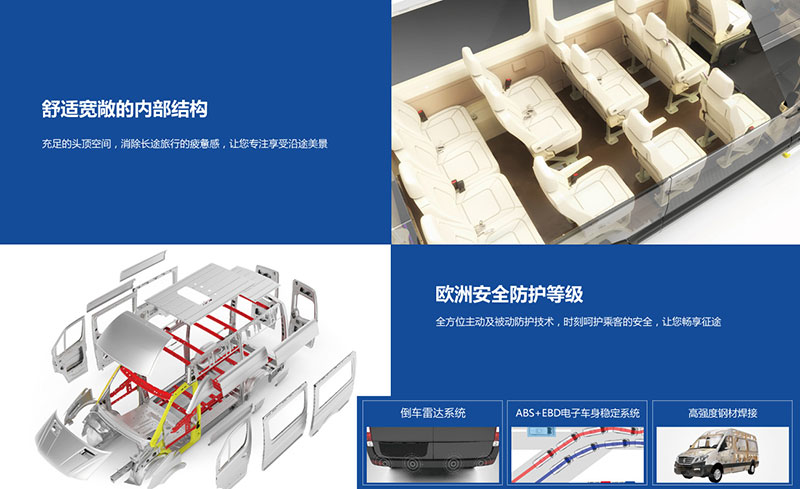 4. European Levels of Security and Protection
The high protection and security level is ensured because of high-strength steel welded vehicle body and various protection systems, including reversing radar system, reversing camera system and ESC. Both active and passive protection makes you worry-free throughout the journey.
5. High Degree of Negative Pressure Protection
The isolation stretcher comes with a negative pressure isolation and transport chamber to avoid the spread of pathogens. Due to the negative pressure device, the polluted cabin air can be expelled after high efficiency filtration and disinfection, causing no contamination to the external air. The fresh air system is adopted to provide continuous fresh air replenishment in the medical cabin, minimizing the risk of infection of medical staff.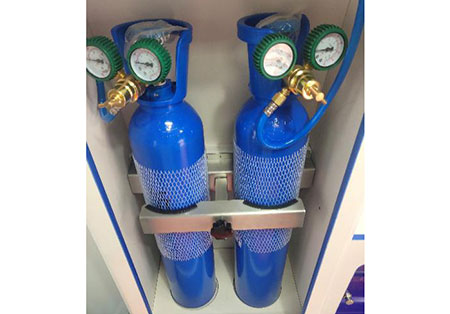 6. High Capacity Oxygen System
2*10L Oxygen cylinder is equipped at the rear of the vehicle for easy replacement. The head section of the isolation stretcher is equipped with two oxygen connectors, which are a ventilator connector and an oxygen supply connector to provide sufficient oxygen supply for patient rescue in a convenient manner.
7. Stable Power Supply
The negative pressure ambulance is equipped with an external charging interface + 180A generator + 100Ah maintenance free battery + 1kW inverter charger to provide stable and sufficient power supply. This makes the medical equipment work in a continuous manner.
8. High Brightness Light Alarm System
The blue LED strobe light with high brightness is adopted in the ambulance. 100W High volume alarm system is available with several alarm sounds.
9. Hygienic Interior Decoration
The integrally molded wall panel is resistant to water, fire and corrosion, providing interior environmental hygiene in a high level.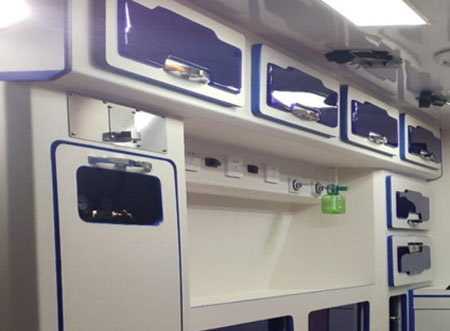 10. Multi-Functional Visual Storage Cabinets
The medical cabin is equipped with multi-functional visual storage cabinets made using waterproof, fireproof and corrosion resistant material. The cabinets are used for storing medical equipment and medicine. With visual design on the cabinets, convenient visibility is achieved, saving time during the patient rescue.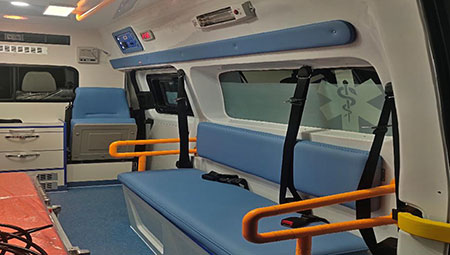 11. Safe and Convenient Benches
The benches are equipped around the medical stretchers. Adopting three-point seatbelt provides great protection of medical personnel and patients. Made using leather and sponge, great comfort is ensured when sitting on the bench.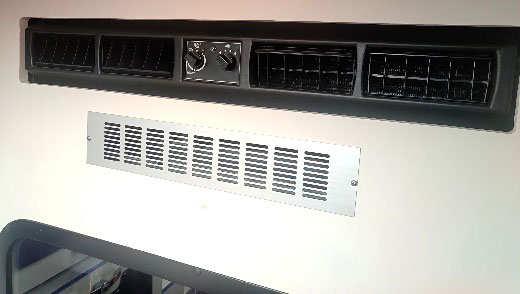 12. Air Conditioning system for Ultimate Temperature Control
The medical cabin is designed with independently controlled air conditioning system and heating & cooling system to realize convenient temperature adjustment, providing a medical environment with great comfort.